The
facility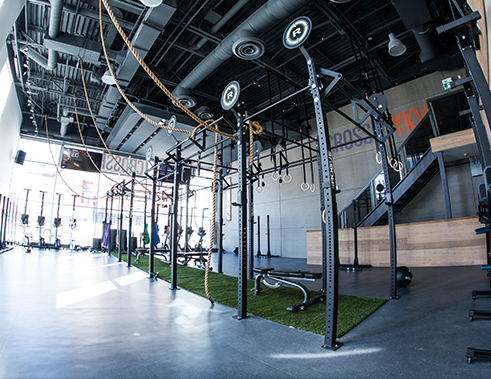 Train like never before in our upscale and inclusive environment featuring a bright and spacious CrossFit pit, separate personal training area, fully equipped cardio suite, male and female shower/change rooms, and private treatment rooms for physical therapy. Whether you're an elite athlete or new to training, CrossFit YKV is designed to deliver the fastest, strongest, healthiest version of you.
What is
CrossFit?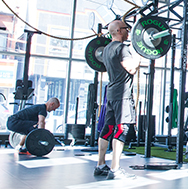 Strictly speaking, CrossFit is defined as "Constantly Varied Functional Movements executed at High Intensity." It begins with a belief in fitness. A belief that one trains for any physical contingency – the known, the unknown and the unimaginable! In performing multiple and varied movements that are natural, safe, reproducible and infinitely scalable, one gains power and speed that vastly exceeds other forms of fitness training. At CrossFit YKV, we believe in the power of CrossFit, and when combined with diet, lifestyle, and an inclusive community of fellow athletes, results are assured.
The
Crossfit

YKV

Difference

At CrossFit YKV we offer an experience like no other CrossFit gym can. You will enjoy a refined boutique-style fitness experience that will push you harder, make you stronger and become your favorite Yorkville retreat.
Premier Location
Rogue Training Plates
34' Rig with Spacious Workout Floor
Cardio Suite
Towel Service
Amenities
Wodify (Goal Tracking)
High Level Coaching
Combination Lockers
Upscale Change-Room Facilities
Monthly Social Events
Free Wifi
2017
Pricing
| Plans 2 | Price 1 |
| --- | --- |
| Unlimited Classes – Month to Month | $280 / month |
| Unlimited Classes – 12 month Commitment 3 | $230 / month |
| Unlimited Classes – Annual Prepay Package 4 | $2,388 ($199/month) |
| Unlimited Classes – 6 month Prepay Package 4 | $1,290 ($215/month) |
| Unlimited Classes – Student Month to Month 5 | $199/month |
| Unlimited Classes – Spousal Rate | 10% off the first full-price package |
| Sessions 2 | Price |
| --- | --- |
| Single Drop-In Fee | $30 |
| Single Drop-In Fee plus YKV T-Shirt | $55 |
| Single Drop-In Fee plus YKV Hoodie | $95 |
| 10 Pack of Classes 6 | $275 |
| 20 Pack of Classes 6 | $495 |
'OPEN GYM' is available with all Plan and Sessions options during all hours of operation.
CONDITIONS
All amounts are plus HST (13%).
Plans and Sessions are non-transferable.
Early cancellation of the 12 month Unlimited Plan at $230/month is the balance of the membership or 2 months, whichever is less.
There are no refunds on either the 12 or 6 month prepaid Unlimited Plans.
Must present a current and valid student card.
Class Packs carry a 12-month expiry date. There are no refunds on unused classes.